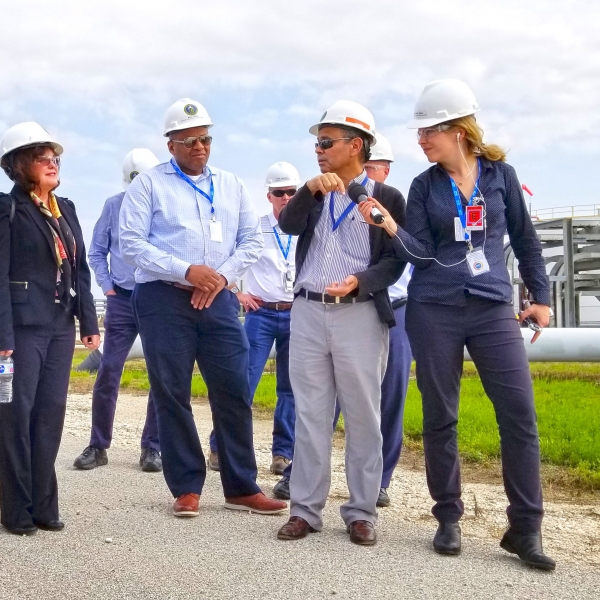 "Energy Security & Diversity" was the central theme of a recent U.S. State Department press tour that included six German reporters, who visited both the DOE headquarters in Washington for a roundtable discussion with Energy Deputy Secretary Dan Brouillette, as well as some Fossil Energy sites in Texas.
The journalists' backgrounds ranged from digital, print, and broadcast media and the topic areas from the discussion with Deputy Secretary Brouillette encompassed the pricing liquefied natural gas (LNG) shipped to European markets, environmental considerations of methane emissions from crude oil production, quantifying natural gas production for domestic use compared to exports, and the importance of energy security to strengthen the partnership between the U.S. and the European Union (EU). As energy security is a high priority for the EU, an energy-secure Europe is a high priority of the U.S., for it helps assure our collective strength and security, better positioning us to meet our global challenges together.
The visit to several Fossil Energy sites in Texas also provided the reporters insight into U.S. energy activities at international, national, and regional levels, as well as a broader understanding how public-private partnerships work. This was first showcased during site visits at Freeport LNG in Quintana Island, TX, where the reporters learned about the physical properties of liquefied natural gas via a LNG "magic show", how a liquefaction plant works, and also DOE's regulatory role in LNG exports.
At the Bryan Mound Strategic Petroleum Reserve (SPR) storage site in Freeport, TX, the reporters learned about DOE's Office of Petroleum Reserves and its mission to protect the U.S. from severe petroleum supply disruptions through the acquisition, storage, distribution, and management of emergency petroleum stocks and to carry out U.S. obligations under our membership to the International Energy Agency. The SPR is the world's largest supply of emergency crude oil, established after the 1973-74 oil embargo. The federally-owned oil stocks are stored in 60 (of 63) underground salt caverns in four locations in Louisiana and Texas.
The last stop on the press tour was in Richmond, Texas at the world's largest carbon capture and storage (CCS) project.  NRG's Petra Nova produces 240 megawatts of carbon free coal powered energy to the grid. As a first of its kind large commercial project, Petra Nova demonstrates the technologies that are available to reduce carbon emissions on a large scale. The reporters were shown how DOE advances commercial deployment of carbon capture technologies for fossil energy systems via public- private partnerships. Petra Nova is a joint venture between NRG Energy and JX Nippon Oil and Gas Exploration Corporation, and received support from the Department of Energy. In April of 2017, Energy Secretary Rick Perry attended the ribbon-cutting of the project and praised its accomplishments, "Petra Nova demonstrates that clean coal technologies can have a meaningful and positive impact on the Nation's energy security and economic growth."
At the conclusion of the visit, the reporters had been shown how the U.S. and FE are responsibly deploying fossil energy to promote energy reliability and security both home and abroad. While the Freeport LNG site is not set to begin exporting LNG until later this year, over the past three years, U.S. LNG has been shipped from already operating export projects to 35 nations on five continents. A number of the LNG shipments to date have gone to countries such as Poland and Lithuania, countries that were previously energy dependent on energy supplies from a single source. With U.S. LNG and overall energy exports on the rise, the U.S. is set to become a net energy exporter next year, and, as shown during the visit to reporters, these exports enhance energy supply security of both the U.S. and our allies.