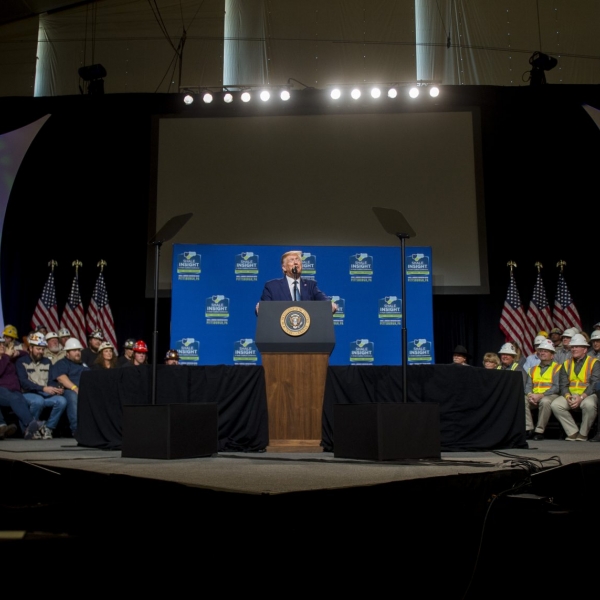 On October 23, President Donald J. Trump gave the keynote address at the 9th annual SHALE INSIGHT™ 2019 conference in Pittsburgh. The event is a widely-attended energy outlook, innovation, and policy-focused forum. President Trump discussed the importance of economic and environmental progress, strengthened national security, and American energy dominance.
He continued, "We are stronger today than ever before. And we will be even stronger tomorrow. You have to see what we have planned for our great country. Because we are one united team, one united people, and one United States of America."
Following President Trump's address, the U.S. Department of Energy's (DOE) Assistant Secretary for Fossil Energy Steven Winberg spoke at SHALE INSIGHT™ 2019. He highlighted the vitality of America's energy landscape and discussed what the Department is doing to encourage the development of the United States' unconventional oil and gas resources.
"First, I just want to say I'm honored to follow President Trump's address to you yesterday. The President has been steadfast in his commitment to American energy development and economic growth—and especially in this region," said Assistant Secretary Winberg. "This Administration is focused on innovation and technology development to help expand and improve our oil and gas development—and to realize the benefits that come with that development."
He added that the United States is now the top global producer of both oil and gas. The estimated U.S. production of crude oil is 12.4 million barrels per day, and it is expected to reach 13.3 million barrels per day in 2020. Both of those numbers are new records. Production of dry natural gas is approximately 91.4 billion cubic feet per day, with figures for 2020 expected to reach 93 billion cubic feet per day.
"For the first time since 1957, we're a net exporter of natural gas—and we're on track to becoming a net energy exporter next year," said Assistant Secretary Winberg. "To date, the Department of Energy has authorized 38 billion cubic feet per day of natural gas that can be exported as liquefied natural gas anywhere in the world. Clearly, there is a lot of headroom for our friends and allies around the world to utilize our energy bounty and in the process, secure their energy future."