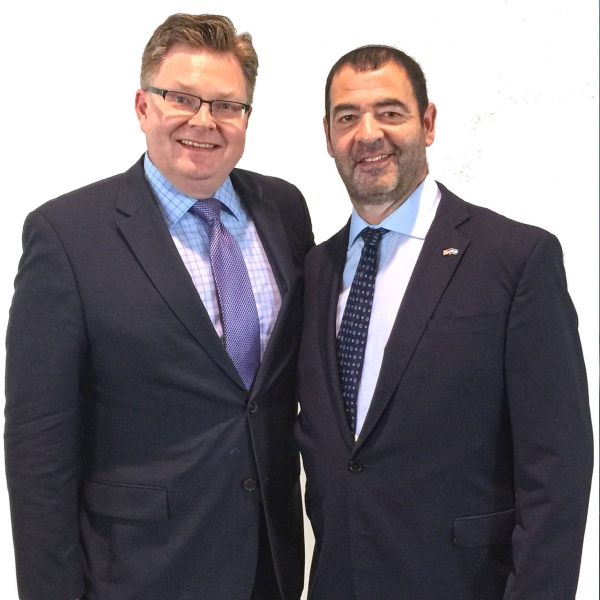 The Office of Fossil Energy's (FE) Deputy Assistant Secretary (DAS) for Oil and Natural Gas Shawn Bennett joined Israeli Consul General Gilad Katz to announce a collaborative funding opportunity at the 2019 Offshore Technology Conference in Houston, TX. The U.S.-Israel Center of Excellence in Energy, Engineering, and Water Technology (Energy Center) issued a call for proposals for research and development (R&D) projects in four topic areas; fossil fuels, energy storage, cybersecurity for energy infrastructure, and energy-water nexus. The max award for a consortium in a topic area is $10 million for five years, and proposals should include cost-sharing of at least 50 percent. The deadline for submitting the proposal is August 15, 2019.
The Energy Center was established in 2018 when the U.S. Department of Energy (DOE) and the Israeli Ministry of Energy, Water, and Infrastructure signed an Implementation Agreement to create a Center to accelerate the development and deployment of critical and innovative technologies. The Center promotes energy security and economic development, while facilitating cooperation among consortia of U.S. and Israeli companies, research institutes, and universities.
"I am certain the Energy Center will be a source of creative partnerships and will promote innovations in the field of energy technologies," said Bennett. "This collaboration brings significant value for the development of the energy industry in both countries as well as the promotion of additional sectors through effective energy management. I am excited about the Energy Center and this opportunity for U.S. and Israel energy entities."
In addition to the funding announcement, DAS Bennett noted in his keynote remarks the importance of public-private energy partnerships that spur the commercialization of energy resources.  He also highlighted Israeli offshore development opportunities and the United States' commitment to building stronger engagement with Israel as an upcoming gas producer.