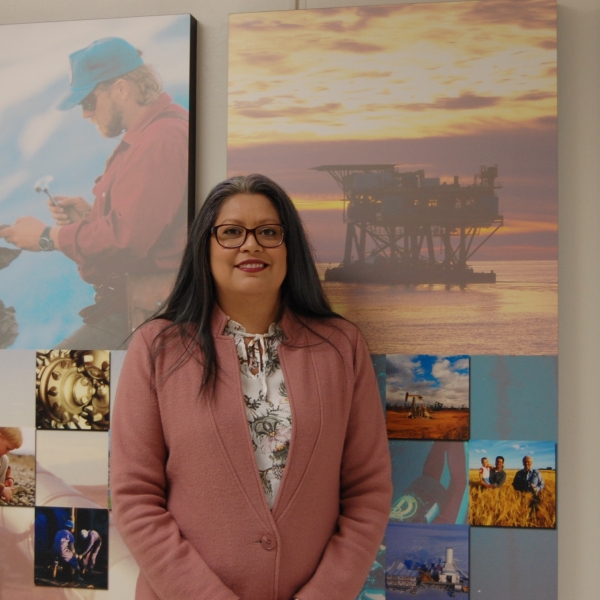 In recognition of National Hispanic Heritage Month, the Office of Fossil Energy is spotlighting some of the extraordinary people of Hispanic heritage on our team.
One of these staff members is Gabby Intihar, a Senior Program Manager/Engineer for the Offshore Oil Spill Prevention Program in the Office of Oil and Natural Gas. She has been at the Department of Energy (DOE) since 2002.  
Gabby was born in Mexico but immigrated to the United States with her family when she was seven years old. She and her family moved to Washington State, where Gabby grew up. She earned a bachelor's degree in Psychology at Washington State University and later transferred to New Mexico State University where she earned a bachelor's degree in Chemical Engineering. She received a master's in Engineering Management at George Washington University.
In 2001, Gabby was a fellow in Fossil Energy's Mickey Leland Energy Fellowship (MLEF) Program. After completing a MLEF summer internship with Marathon Oil, she began working at DOE after graduating from college in 2002. She's been here ever since.
Today, Gabby handles an array of responsibilities for the Offshore Oil and Gas Program including preparation of budget allocation and proposals, programmatic strategic planning, and management of the program's research portfolio, among other things.
Gabby believes it is essential for people of all backgrounds to participate in science, technology, engineering, and mathematics (STEM) careers because people from different backgrounds bring different perspectives to the table. A broad viewpoint is most effective for solving the big technological challenges of DOE and industry. She supports students who are entering the STEM fields by remaining an active participant in the mentoring side of MLEF. Gabby's advice to young people who want to pursue a career in STEM is to "follow your dreams and don't let anyone tell you that you can't do something. Prove them wrong and pursue your love of math and science."
Her support of the STEM field even carries over into her personal life. Gabby has the scientific method pinned up in her office at home and she spends time on her weekends conducting science experiments with her two daughters.