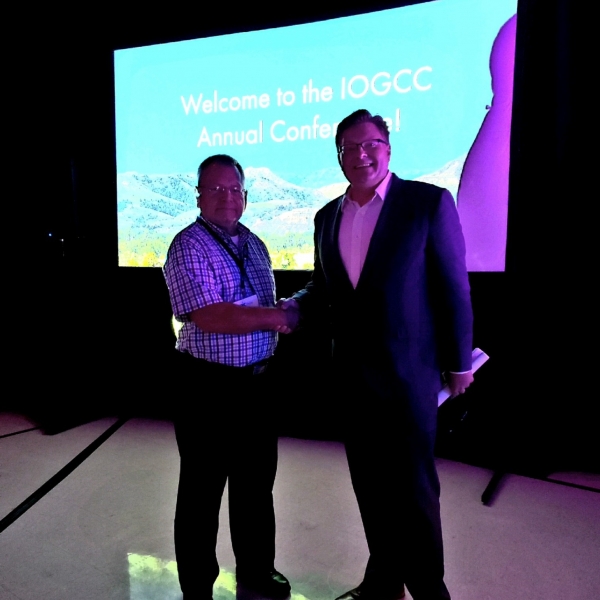 The U.S. Department of Energy's (DOE) Deputy Assistant Secretary (DAS) for Oil and Natural Gas Shawn Bennett spoke at the 2019 Interstate Oil and Gas Compact Commission (IOGCC) Annual Conference in Medora, ND on August 26th.
IOGCC is a multi-state government organization that champions the conservation and efficient recovery of the Nation's oil and natural gas resources while protecting health, safety, and the environment. This year's conference, which began on Sunday, August 25th, is one of the most highly anticipated meetings of state and Canadian province regulators, federal officials, and industry executives.
During his remarks, DAS Bennett discussed the importance of oil and natural gas development to U.S. economic growth and energy security, and the impacts those resources are having in the global energy market. He also highlighted how the Trump Administration has worked to support U.S. technical leadership, streamlined regulations, and federal-state collaboration on energy issues.
He discussed the Department's collaborative research and development initiatives to maximize the value of U.S. oil and gas resources to the public and improve the reliability, integrity, and operational efficiency of the Nation's natural gas gathering, transmission, distribution, and storage facilities. 
Discussing DOE's research and development targeted to improve oil and gas recovery efficiency, DAS Bennett noted that challenges vary from basin to basin, and he highlighted the Department's focus on advancing a basin-specific research strategy that employs new applications of machine learning and data analytics.  This strategy also requires the deployment of field labs, and DOE currently has eight established and nine planned field labs across the country.
DAS Bennett also shared that DOE, the U.S. Geological Survey, the Alaska Department of Natural Resources, and the Japan Oil, Gas and Metals National Corporation, with support from industry operators, have identified an optimal gas hydrate drilling location on Alaska's North Slope. Gas hydrates—which represent a potentially massive new energy source—are cage-like lattices of ice that contain trapped molecules of methane, the chief constituent of natural gas. Gas hydrates occur under Arctic permafrost and beneath the ocean floor. When brought to the earth's surface, one cubic foot of gas hydrate releases up to 180 cubic feet of natural gas.  Following successful drill tests, DOE is closer to characterizing, evaluating, and confirming the potential for gas hydrate production on the North Slope in partnership with the Alaska energy industry.
And, he discussed other DOE oil and gas efforts, including the Department's role in the recently-announced U.S.-Israel Energy Research Center; the new U.S.-India Gas Task Force initiative; and the potential for a new petrochemical industry in Appalachia created by the abundance of natural gas liquids produced in that region.
For more information on DOE's Oil and Natural Gas program, click here.